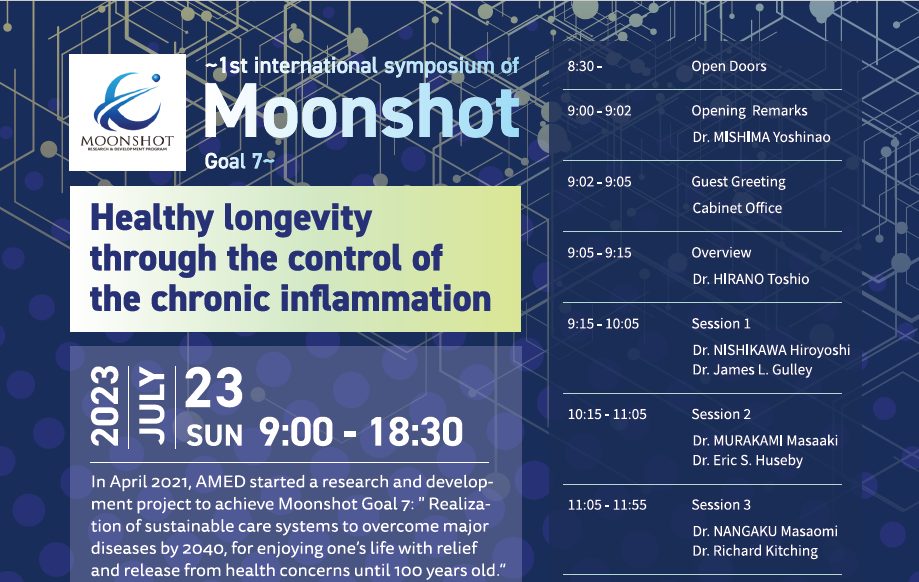 2023.07.19
1st international symposium of Moonshot Goal 7 will be held on July 23
 In April 2021, AMED started a research and development project to achieve Moonshot Goal 7: " Realization of sustainable care systems to overcome major diseases by 2040, for enjoying one's life with relief and release from health concerns until 100 years old." The research project "Development of new-generation medical care systems through customizing sleep and hibernation", for which Dr. Masashi Yanagisawa, Director of WPI-IIIS, serves as Project Manager (PM), was selected as one of it.
 AMED has held domestic symposiums in 2021 and 2022, and will have the first international symposium this year. In this symposium, nine PMs including Dr. Masashi Yanagisawa will present the current status and future prospects of the research with the theme of "Healthy longevity through the control of the chronic inflammation" in each session with invited speakers from overseas. 
 All lectures and Q&A will be in English (simultaneous interpretation in Japanese is available.). It is free for public to participate both of onsite and online. Please go to the link below to pre-register and attend the event!

Date
Sunday, July 23, 2023, 9:00~18:30
(Dr. Masashi Yanagisawa's lecture is session 6 14:50~15:40)
Venue
Iino hall 4F in Tokyo & Online
    
Application Deadline
5pm, July 20th (onsite), 5pm, July 22nd (online)