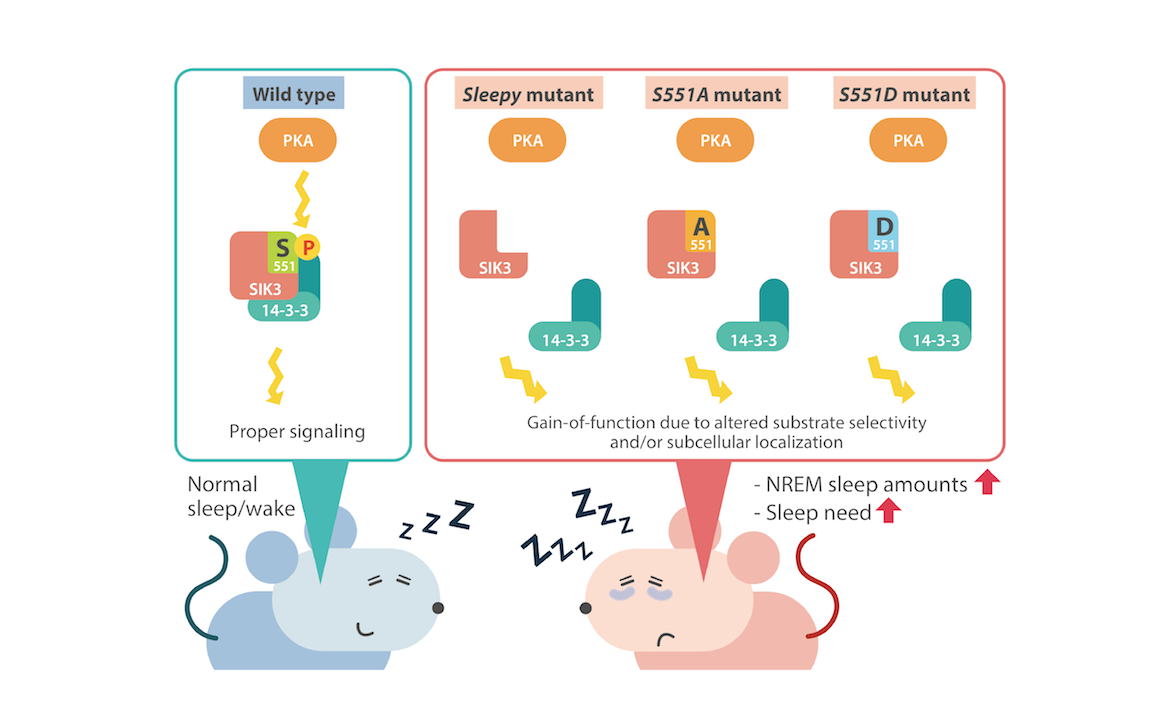 2018.09.26
Never Enough Sleep? Mouse Mutation Shown to Increase Daily Amounts and Need for Sleep (Published in PNAS)
Researchers in IIIS have shown that a single mutation in a mouse gene increases the amount that mice sleep and their level of non-REM sleep, potentially providing useful insights into how sleep is regulated and how human sleep disorders arise.

The results showed that changing the 551st amino acid of the SIK3 protein caused longer durations of non-REM sleep as well as an increased sleep need. The team also focused on the molecular mechanisms by which the mutation exerted its effects. They found that the mutant form of SIK3 cannot be recognized or bind to other molecules called PKA and 14-3-3 proteins. This would alter downstream signaling events, ultimately impacting on the system regulating the sleep/wake cycle.

This amino acid is evolutionarily conserved across the animal kingdom, suggesting these findings are potentially relevant to studies on sleep in humans. This study may contribute to reveal the molecular mechanism of human sleep disorder such as idiopathic hypersomnia, patients experience a strong need to sleep and are sleepy during the day.

The article "A single phosphorylation site of SIK3 regulates daily sleep amounts and sleep need in mice" was published online in Proceedings of the National Academy of Sciences of the United States of America (PNAS) on September 24, 2018.