01
研究概要
The long-term goals of the Takahashi laboratory are to understand the molecular and genetic basis of circadian rhythms in mammals and to utilize forward genetic approaches in the mouse as a tool for gene discovery for complex behavior. We have focused our attention in five areas:
Identification of circadian clock genes and assignment of their function in the molecular mechanism of the circadian pacemaker;
Analysis of central and peripheral circadian oscillators using real-time circadian reporters;
Single-cell analysis of circadian oscillations using bioluminescence imaging methods;
In vivo analysis of circadian clock components using tissue-specific and conditional expression of circadian genes in mice; and
Identification of genes defined by mutations isolated in the large-scale mutagenesis screens we have conducted on neural and behavioral phenotypes.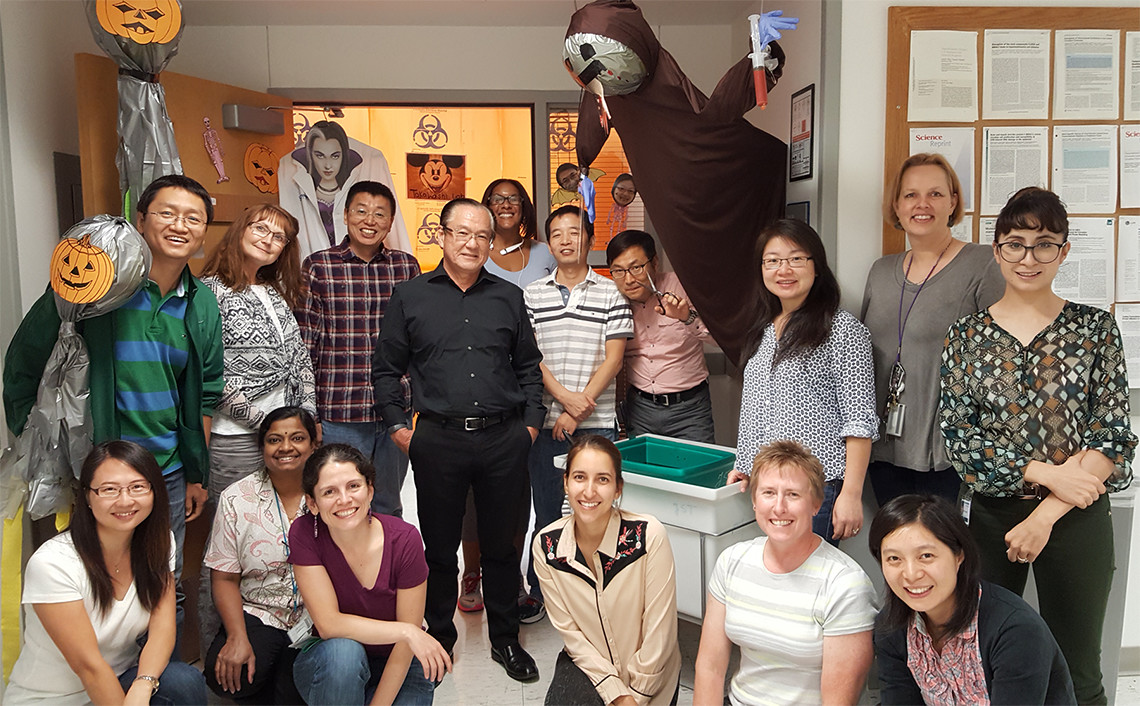 02
主な論文
Acosta-Rodríguez VA, de Groot MHM, Rijo-Ferreira F, Green CB, Takahashi JS. 2017. Mice under Caloric Restriction Self-Impose a Temporal Restriction of Food Intake as Revealed by an Automated Feeder System. Cell Metab 2017 Jul 5;26(1):267-277.e2. doi: 10.1016/j.cmet.2017.06.007. PMID: 28683292
Funato, H., C. Miyoshi, T. Fujiyama, T. Kanda, M. Sato, Z. Wang, J. Ma, S. Nakane, J. Tomita, A. Ikkyu, M. Kakizaki, N. Hotta-Hirashima, S. Kanno, H. Komiya, F. Asano, T. Honda, S.J. Kim, K. Harano, H. Muramoto, T. Yonezawa, S. Mizuno, S. Miyazaki, L. Connor, V. Kumar, I. Miura, T. Suzuki, A. Watanabe, M. Abe, F. Sugiyama, S. Takahashi, K. Sakimura, Y. Hayashi, Q. Liu, K. Kume, S. Wakana, J.S. Takahashi* and M. Yanagisawa*. 2016. Forward-genetics analysis of sleep in randomly mutagenized mice. Nature 539: 378- 383. doi: 10.1038/nature20142. PMID: 27806374
Koike, N., S.H. Yoo, H.C. Huang, V. Kumar, C. Lee, T.K. Kim and J.S. Takahashi. 2012. Transcriptional architecture and chromatin landscape of the core circadian clock in mammals. Science 338: 349-354. Published online August 30, 2012. doi: 10.1126/science.1226339. PMCID: 3694775. 
03
経歴・受賞歴
Joseph S. Takahashi is Chair of the Department of Neuroscience and an Investigator of the Howard Hughes Medical Institute at UT Southwestern Medical Center. He currently holds the Loyd B. Sands Distinguished Chair in Neuroscience.
Dr. Takahashi received a BA in biology from Swarthmore College in 1974 and a PhD in neuroscience from the University of Oregon, Eugene, in 1981. For postdoctoral training, he was a pharmacology research associate at the National Institute of Mental Health from 1981-1983.
Dr. Takahashi has pioneered the use of forward genetics and positional cloning in the mouse as a tool for discovery of genes underlying neurobiology and behavior, and his discovery of the mouse and human clock genes led to a description of a conserved circadian clock mechanism in animals.
He is the author of more than 270 scientific publications and the recipient of many awards including the Honma Prize in Biological Rhythms Research, NSF Presidential Young Investigator Award, Searle Scholars Award, Bristol-Myers Squibb Unrestricted Grant in Neuroscience, and the C. U. Ariens Kappers Medal. He received the W. Alden Spencer Award in Neuroscience from Columbia University in 2001, was elected a Fellow of the American Academy of Arts and Sciences in 2000, a Member of the National Academy of Sciences in 2003 and a Member of the National Academy of Medicine in 2014.